This article will serve as a comprehensive breakdown of all things "Offline" in WikiCamps version 5. You will find general information on downloading Offline Content in our other articles. If you have questions about recent changes to offline content and want to know how best to manage this feature, you will be able to find the answers here!
How do I know if I have all the content now?
This is the main question we see around offline content, and we understand your desire to make sure you're ready to go offline wherever your travels take you. The table below provides an overview of how much content you should expect to see in each region (if you had downloaded 100% of offline content).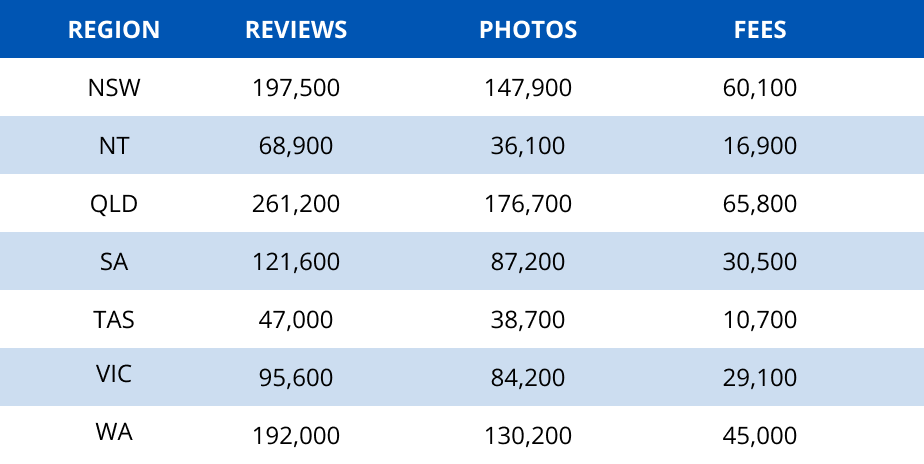 (Rounded to nearest hundred)
Do I still have enough to go offline if I haven't downloaded 100% of each region?
Put simply, yes!
The numbers above are indicative of what you might see if you had downloaded almost everything in WikiCamps. The actual numbers are constantly changing, but because the offline sync will download the newest and most relevant data first, you can be confident that having 50-80% of these numbers should give you at least 2-5 years worth of content for each region, which should be plenty for most users to go offline with.
How to ensure you download offline content
1) Keep the app open and on the content screen while downloading.
WikiCamps can only download offline content if your device remains connected to the internet, awake and on the offline content screen. We know that this isn't the ideal experience. There are some quite complex limitations in the current app code which prevent the download from working "in the background." We are working towards moving off the current app code which will allow us to improve this experience in the future. Improvements will include download speed and battery usage.
2) If your download is not progressing.
Tip 1: Toggle region settings
If you're getting stuck in a region, you can try toggling that region off to download the next one and come back to it later. WikiCamps will first verify any already downloaded content and then work down the list to download any content that is not yet on your device in each selected region, before moving along to the next region.
Tip 2: Reboot your device
When your device is getting stuck, there are a number of things that could be causing the issue, but the best approach is to try rebooting your device and running WikiCamps again (with no other apps in the background) from the clean reboot. This will allow your device to re-attempt the connection to the servers and have another go at getting that download moving.
3) If your content is showing '0' on some regions
This is part of the device re-verifying all of the content in that region, but does not mean your downloaded content has been removed. A short wait (1-2 minutes depending on network environment) as the device processes the content should bring the numbers back to normal.
When you perform a sync on the offline content page, WikiCamps first works to verify all of the 'online' content in the app and then checks any content you have already downloaded before downloading any new content (if available). In rare cases, the system may, unfortunately, display your already downloaded regions as though the content needs to be redownloaded (reverting to displaying 0's) during the verification step. We are working to improve the speed that the verification takes place, and our plan to implement the content limits will speed this verification process up.
What has changed to the download process?
Previously, users could only download a limited amount of content (approximately 6 months at a time).
As a result of the database upgrade WikiCamps is capable of handling more information and communicating more efficiently – a necessary change to keep WikiCamps running with room for the database to grow and adapt in the future.
With the goal of providing better access to WikiCamps content, we released the upgrade with no limitation, meaning users have been able to download all offline content for the app.
We understand app responsiveness is important, so we are monitoring feedback and suggestions. Our goal is to provide the most suitable balance of providing as much content as possible, while making it easy to access.
Our next update will implement a 2-year content limit to improve the user experience. This is still much larger than the previous (6 month) limit, but will improve performance. We have also chosen, for now, to have thumbnails continue downloading as placeholder images only. As part of this change, we expect to see another increase in offline sync and download speeds for new downloads.
What will these changes mean when they are released?
The offline content screen will be made simpler to understand, allowing you to easily understand when you're ready to go offline. We will communicate when this change will be released in a future version of the app.
Rather than waiting for the verification process to complete to see progress being made on downloads, you will be able to see the sync progress captured as an easy-to-read percentage. Each region will sync from 0% (beginning sync) to 100% (offline ready) every time you sync the content, so there'll be no guessing whether it finished or not.
For those who already have a large amount of content, please be aware this coming change will not take away any content, however the app will still need to verify that content in the initial sync when preparing the download. This may lead to increased wait times before new content begins downloading.
If you think that 2-years' worth of content is more suited to you, you can delete all of your currently downloaded offline content and download again to reduce the app's file size and quickly get the most relevant content for offline use.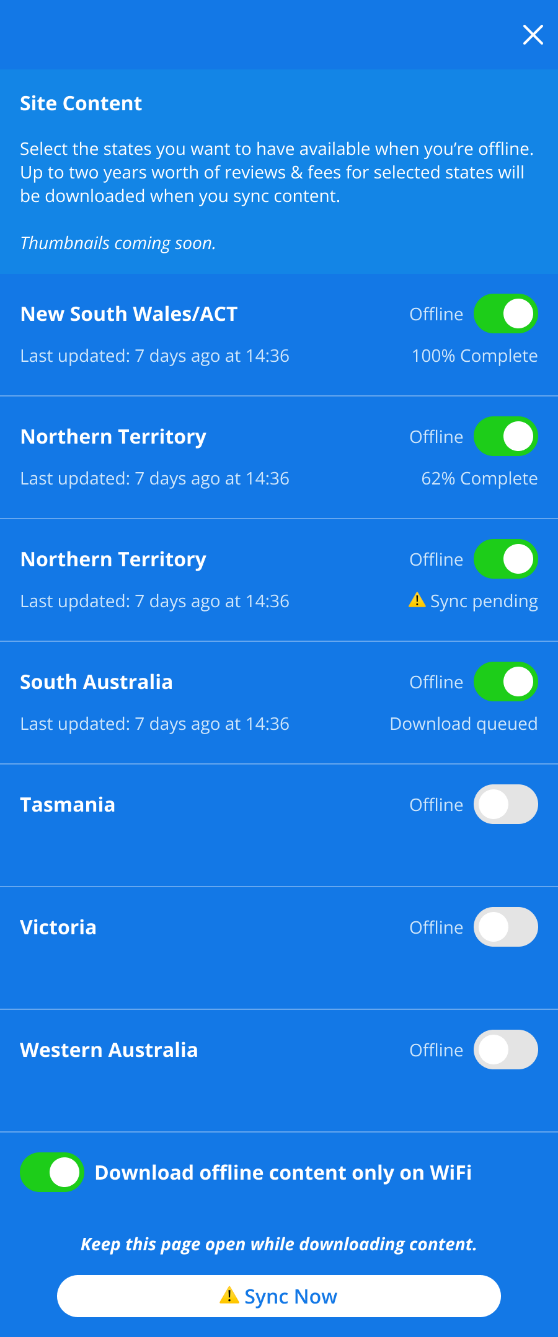 Above offline content screen is a draft only for example purposes.